Streicher, Gustav
(1873, Auerbach near Uttendorf/Upper Austria -
1915, Bad Hall/ Upper Austria)
A narrator and dramatist, who was a copycat of naturalism and symbolism. He was considered a disreputable Salzburger bohemien because of his anti-bourgeois attitudes and dissipated life-style . From 1904 in poetical circles he acted as a fellow-poet to Trakl, where he distinguished himself with benefaction and affection.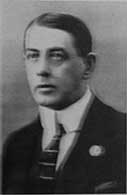 The relationship remained episodic, although Streicher inspired the young poet into his first dramatic attempts. As a result of his recommendations, in 1906 the Salzburg City Theater performed his one act plays "Day of the Deaths" and "Fata Morgana". After their failure, Trakl destroyed both texts. He thanked Streicher with a well-meaning newspaper review.