Minnich, Karl (Friend of Youth)
(1886, Salzburg - 1964, Vienna)
Starting from 1897 a schoolmate in Georg's grade school, he also worked later in the hazy rings of the adolescent poet circles of Apollo and Minerva. Literary interchanges/exchanges and various excesses also allowed the relationship to exist further after Salzburg to Vienna. Minnich lived there already to study law, when in 1908 Georg began with pharmacy. Together with Franz Schwab and Karl von Kalmár, Minnich was the only contact he maintained regularly.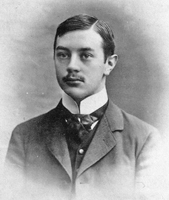 The attempts of another schoolmate in Vienna, Erhard Buschbeck, to introduce Trakl into the cultural and literary circles was to no avail. Starting from 1912, Minnich seems to have lost his standing as a sidekick when Trakl worked in Innsbruck and followed Ludwig von Ficker and began going out with Kraus , Loos and Kokoschka on his visits to Vienna. With the exception of Buschbeck, Minnich is the only acquaintance from youth who Trakl dedicated a poem with "Square by the Forest".