Brunetti-Pisano, August (Musican)
(10/24/1870, Sankt Gilgen - 9/1/1943, Salzburg)
A composer committed to late romanticism, unsuccessful all of his life and lacking posthumous fame. He was the piano teacher of the Trakl family and taught all six brothers and sisters under the special supervision of mother Maria Catherina. Grete, the youngest, arrived in Vienna in 1908 to study piano. Brunetti-Pisano might have been an influence not only because of Georg's enthusiasm for music, but also for his consistent existence as an independend artist. When Georg likewise moved to Vienna in 1908 to study pharmacy, the contacts were not severed.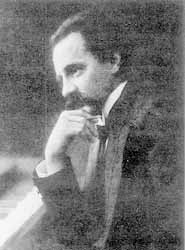 From 1909, a letter of thanks is handed down in response to Brunetti-Pisano's congratulations for his first publication beyond Salzburg in the "New Viennese Journal" . In 1911, when Trakl again lived temporarily in Salzburg, Brunetti-Pisano introduced him in the Art Society Pan, a progressive group over which he held the office of president for many years. On this occasion, Georg made the acquaintance of Karl Hauer; his school friend Erhard Buschbeck was also involved in these activities.
It is worth mentioning that Pisano-Brunetti, who a member of the Art Society Pan called "the lonely one among the composers of our days", completed a work by 10/24/1908 which Georg becomes at least partially acquainted with: "The Lamenting Song", a musical fairy tale drama based on the Brothers Grimm story "The Singing Bones", a tragedy about a pair of siblings.