Geipel, Maria
(called Mizzi; 12/21/1882 - 10/251973, Salzburg)
Georg's oldest sister was the second child of Tobias and Maria Catherina Trakl after Gustav (born 1880) and before Hermine (born 1884) and Georg. She received an education that was customary for a daughter of a large, middle class family from her Governess Maria Boring and long stays in boarding schools. In 1903, she married Wilhelm Geipel from Graz, but left him shortly after the marriage to return to Salzburg.
Until her death, she lived in the former dwelling at Waagplatz 3, which was sold in 1917.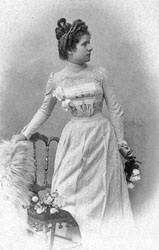 1903, before her marriage